What is the Peanut Butter Processing Equipment?
Peanut butter has a delicate texture and delicious taste. It has the rich aroma inherent in peanuts. And it is not moldy or insect-free. Peanut butter is commonly used as a condiment for sandwiches and salads. It can also be used as a filling for desserts such as sweet pancakes and sweet buns. The increasing demand for peanut butter in various countries reflects the good momentum of the peanut butter market. In the face of the vast market for peanut butter production, many customers want to engage in this business. For customers who want to invest, the first concern must be the peanut manufacturing process. And what is the peanut butter processing equipment needed?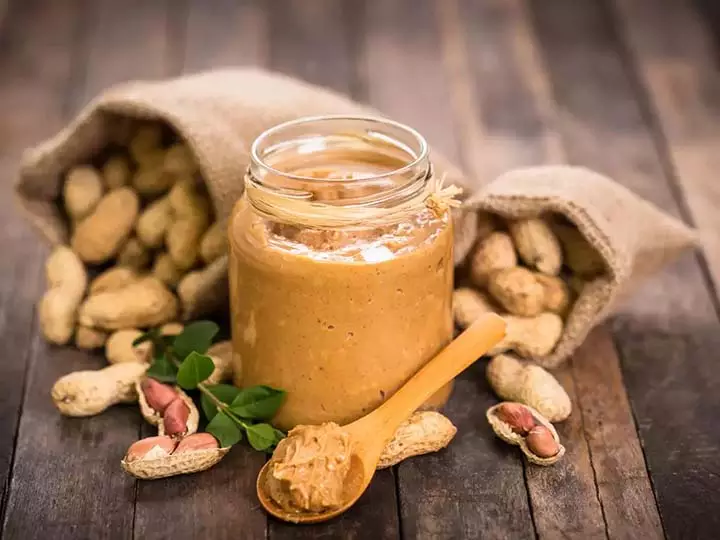 What is the peanut butter processing equipment?
A fully automatic peanut butter production line requires equipment including a color sorter, baking equipment, cooling equipment, peanut peeling machine, peanut butter equipment, mixing tank, packing equipment, etc. The peanut butter processing process includes raw material baking, cooling, peeling, screening, grinding, mixing, degassing, and packing.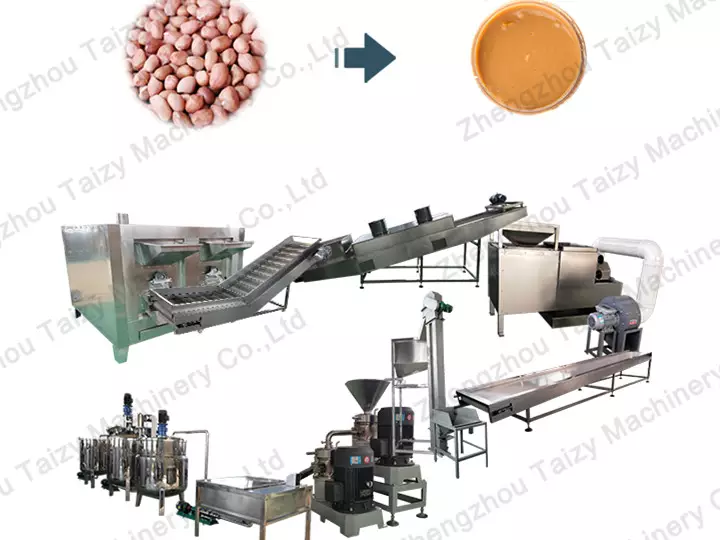 Complete peanut butter production process
The production of peanut butter requires the use of peanut processing equipment. In the selection of peanuts, each batch of peanuts is subjected to sensory inspection after admission. Then the peanuts are inspected for moisture and impurities, etc. The inspection is qualified before use.
Then the qualified peanut kernels are put into the peanut roasting machine for roasting. Roasted peanuts are evenly colored and free of scorching. Then the roasted peanuts need to be cooled. Subsequently put into the peanut peeling machine for peeling. At this point, manual picking steps can be added to remove the moldy kernel, scorched particles, impurities, etc. Next, the picked peanuts are put into the peanut butter grinding equipment for grinding. After the peanut butter has been successfully ground, a stirring step is required. This will give the peanut butter a uniform texture. Finally, the finished peanut butter can be packed into the package.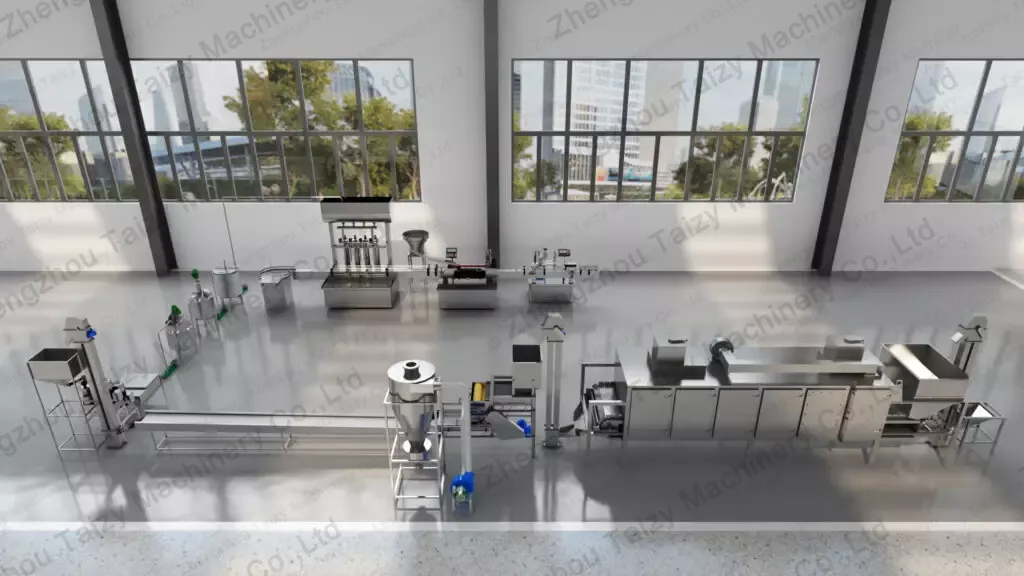 Summary
Taizy Machinery has been engaged in the manufacture of peanut butter processing equipment for more than 10 years. Therefore, we have rich experience in manufacturing equipment for the peanut butter production line. If you want to invest in a peanut butter manufacturing plant, we are a good choice for you.